Montanari Engineering Constructions S.r.l. has been on the market since the early '50s and, during that time it has spent over 30 years designing and building manual and automatic systems for industrial laundries.


Montanari Engineering Construction S.r.l.'s premises
Thanks to the experience gathered in the various sectors in which we operate, and the Quality Certification obtained (UNI EN ISO 9000:2001), Montanari Engineering Constructions S.r.l. can offer its clientele quality systems and solutions that enhance productivity without breaking the budget.

over 60 plants built per year...
over 100,000 m of line built...
over 6,000,000 kg of laundry handled per day...
over 1,000 industrial laundrettes throughout the world...
over 100 km of conveyor belts...
The materials utilised are selected by means of accurate testing to establish resistance and traction, and are subject to ISO standard quality controls. Thanks to this careful selection policy, Montanari S.r.l. systems have been operative and on the market for over 35 years.
With a distribution network covering the main areas of Central and Western Europe, Montanari S.r.l. can guarantee fast and accurate assistance wherever you are.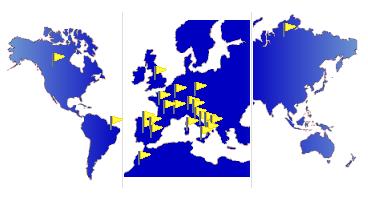 Montanari S.r.l. ensures its system are available to businesses worldwide




Linen traceability with microchip